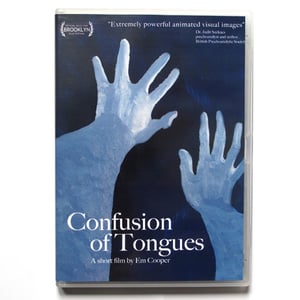 £

10.99
Confusion of Tongues
DVD
Dir. Em Cooper
Running time: 6 mins
Language: English
Subtitles: English and French
DVD Regions 1-6
"Em Cooper translates one of the most important psychoanalytic papers ever written into an evocative and compelling visual montage. Capturing the complexities and subtleties of the traumatic, this short film tackles big ideas—and like a dream, synthesizes multiple ideas in a powerful visual vocabulary."
-B. William Brennan, psychoanalyst
Synopsis
Inspired by the work of Sándor Ferenczi, one of the original pioneers of psychoanalysis, Confusion of Tongues takes us into the world of a woman suffering a sleepless night. Haunted by a recurring childhood memory and gripped by her fear of a window left open, she begins to recall a much deeper trauma.
Director Em Cooper (The Nest, 2010, Laid Down, 2007) combines film with oil-painted animation to vividly conjure up the tragic confusion of desire which can be a devastating effect of child abuse.
With screenings at the Brooklyn Film Festival and the psychotherapy training programme at the Tavistock Centre in London, this dvd is highly recommended to psychotherapists, art lovers and everyone with an interest in film.
"Extremely powerful animated visual images"
- Dr. Judit Székács, psychoanalyst and author
"Em is a talented young film maker who shows real originality"
- Lorraine Heggessey, former controller of BBC 1.