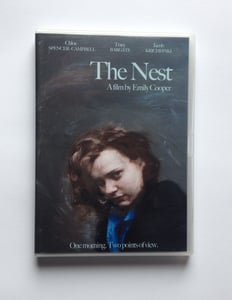 £

10.99
The Nest
DVD
Dir. Em Cooper
Running time: 11 mins
Language: English
DVD Regions 1-6
'Effectively alternating animation with live action, Em Cooper's short, The Nest, is a triangular family drama observed with remarkable psychological precision. Its images will leave viewers profoundly moved and disturbed.'
- Andrea Sabbadini, Psychoanalyst and Chair of the European Psychoanalytic Film Festival
Synopsis
It is seemingly just another school morning for Laura and her mother, Alice. But the differences between their two points of view leave us haunted by questions about Laura's father. When memory and reality become confused, is it possible to understand what really happened?
The Nest is a film about the transmission of trauma through the generations of a family. It is a film snapped in two, both in narrative and in technique, using oil painted animation to bring out the unconscious motives which drive a difficult family dynamic.
With screenings at the Freud Museum, London, The Cambridge International Film Festival, Vancouver International Film Festival and the psychotherapy training programme at the Tavistock Centre in London, this dvd is highly recommended to psychotherapists, art lovers and everyone with an interest in film.
"Em is a talented young film maker who shows real originality"
- Lorraine Heggessey, former controller of BBC 1.